At the weekend, SpaceX brought its number of rocket launches to 33 with two more missions. Elon Musk's group broke its record from the previous year – and that in July.
Elon Musk's space company SpaceX launched 31 rockets last year. In 2022, the group already exceeded this number when the Falcon 9 rocket sent a load of 46 Starlink satellites into space on Friday, setting off on its 32nd mission. On Sunday, SpaceX added 53 satellites – rocket launch number 33.
The company has already broken its existing record for most rocket launches in a year, as confirmed by Elon Musk on Twitter , where he congratulated his team. In addition, there are still several months left to further expand the record.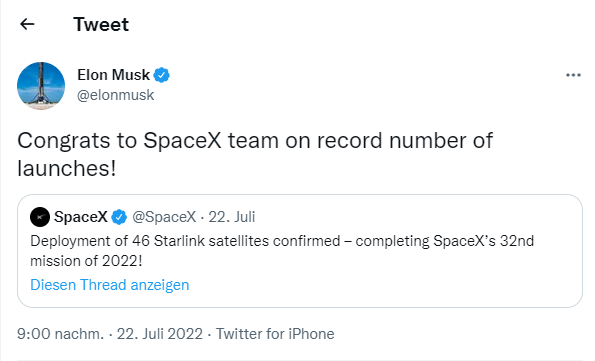 Elon Musk's goal for 2022: 52 rocket launches
SpaceX intends to do the same, because at the beginning of the year the ambitious goal was announced of sending 52 rockets into space this year. So far, SpaceX is on track to meet its schedule. This is made possible by the reusable rocket stages of the Falcon 9. The rocket, which was launched on Sunday, has already completed four missions. Another rocket already has 13 missions under its belt. These cycles allow SpaceX to ramp up its rocket launch cadence every year except for 2019, when the number dropped.
In addition, SpaceX is its own customer for a large number of the rocket launches. The company is using the missions to increase its fleet of Starlink Internet satellites. Around 2,900 have been sent into orbit so far, of which around 2,600 are currently active. SpaceX has approval for a total of 12,000 but is seeking to relax international rules to allow up to 30,000 satellites into orbit.
SpaceX has big plans
But even without its Starlink project, SpaceX will not run out of work. Thanks to the cooperation with NASA, the company repeatedly sends off Dragon-type space capsules to send people and cargo to the ISS. There are also SpaceX's commercial space flights, which take tourists into space, and launches for the US Department of Defense.
In the long term, Elon Musk is pursuing particularly ambitious plans with SpaceX. The billionaire has never made a secret of the fact that he has set himself the goal of populating Mars – and even wants to outperform NASA in the race for the red planet .