Google has introduced a new version of its Titan security keys. The new keys are compatible with Passkeys technology, which is intended to make passwords unnecessary in the long term.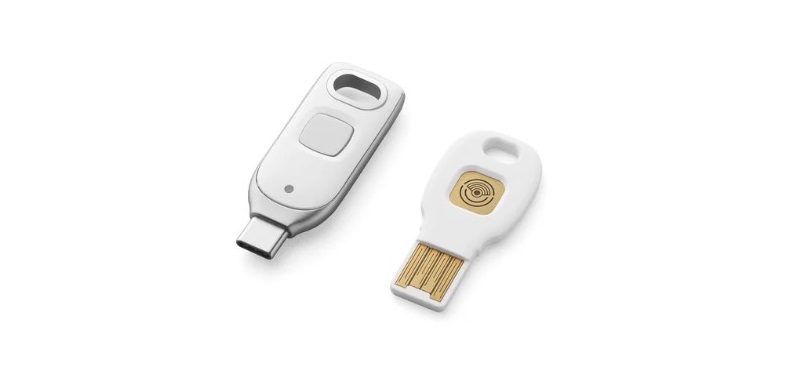 What is the best way to protect passwords? By abolishing them. Google, like Apple and Microsoft, has been pursuing this strategy with passkeys for some time. In simple terms, this process allows users to identify themselves on their device. This creates a string as a key that you can then use to log in to web services or accounts.
The Titan security keys intends to make passwords superfluous
Now Google has introduced new Titan security keys that can store up to 250 passkeys. The new security key replaces the previous model from 2018, which was based on the two-stage verification system.
The new Titan security keys are already listed in the Google Store . It is available in two versions, for the USB-A and USB-C standards. Both versions are also NFC compatible, meaning they can be connected to a smartphone or computer without contact.
Passkeys technology for everyone
Passkeys normally work without a physical carrier medium, but are activated directly during authentication via smartphone. But: "Some people need a solution that does not depend on smartphones, or use devices that do not support passkeys," writes Google in a blog post. The company wants to give these user groups access to secure passkey technology with the Titan security key.
Passwords and two-step authentication measures should be replaced by passkeys in the long term. But Google itself knows that this is still a thing of the future. In the store, the passkey-compatible keys are therefore advertised as additional protection in addition to passwords.
Google wants to distribute 100,000 keys for free
In order to make the passkey standard even more widespread, Google is taking an unusual measure. Next year, the group wants to distribute 100,000 security keys free of charge to partners in the industry who have particularly high security needs.
Google clearly wants to use its initiative to help make the presidential election in the USA safer. This is intended to protect political campaigns from being compromised. So it's about more than just avoiding fiddling with passwords.