Ubisoft has finally announced the release date of the pirate game Skull and Bones. This year you can go on a digital loot hunt. We summarize the most important information for you.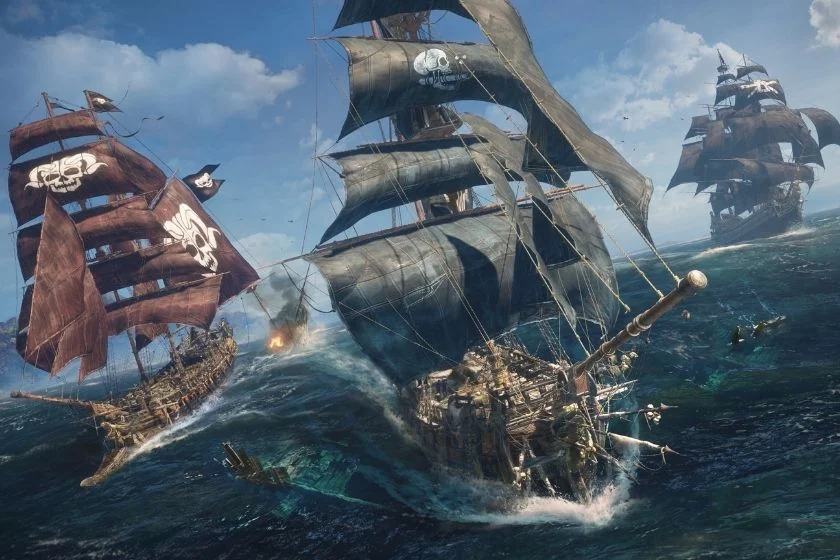 When is the game out?
Five years have passed since Skull and Bones was first presented at E3. Now the release is imminent. Towards the end of the year you can finally set sail – on November 8th, 2022 to be precise. The game will be available for PlayStation 5, Xbox Series X|S, Stadia and PC. On the PC you have the choice between the Epic Games Store and Ubisoft's in-house shop. Crossplay and cross-progression have already been officially confirmed.
The Premium Edition will include The Ballad of Bloody Bones Collection, a variety of ship and character cosmetic items, additional digital content including two extra missions, a digital art book and soundtrack, and a Letter of Marque token. Pre-orderers also get access to the High Seas Pack, which includes the Infamous Rift and Coronation Celebration Fireworks.
What game will it be?
Skull and Bones will be a pirate multiplayer game with survival elements. With up to two friends you can set sail together to search for treasure or to board enemy ships. "From accepting contracts and gathering resources to navigating important trade routes and attacking wealthy merchant ships, every choice will affect the player's journey, with varying degrees of risk and reward," the announcement reads.
In principle, the world of Skull and Bones can also be explored alone. However, Ubisoft emphasizes that the game would be more fun in multiplayer. Whether you prefer to forge alliances in the good old PvE manner or activate the PvP mode to compete with other players on the server is up to you. The video linked above gives us a first glimpse of what is happening in the game.
So that the gameplay doesn't get boring in the long run, Ubisoft has come up with a few little things. The more adventures you complete with your crew, the more fame you gain. New items can be unlocked and little by little you can expand your own fleet and adapt it to your own playing style. In addition, a plan for the time after the release of the game has already been worked out. Regular free updates with new content, activities and challenges are designed to keep players happy.